So an unsent letter was discovered recently that Kurt Cobain has written, supposedly to MTV.
I grew up listening to Kurt Cobain, after his death in '94, his music has shaped my life.
When you think about it, it's a paradox that Kurt Cobain became so famous, since he despised being mainstream and on everyone's television set. I think the media sent him on his way to his suicide along with all the other bullshit he had to go through including his "wife" Courtney...fucking hate her and I fucking hate the media - it really grinds my gears.
I think it was all caused by the hype his song "Smells Like Teen Spirit" from their album Nevermind bred an animosity between Cobain and the rest of the world.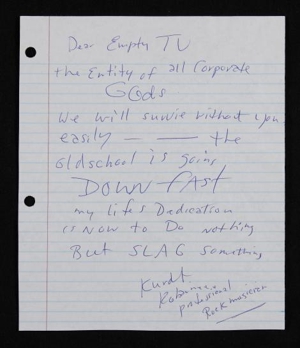 The letter reads:
"Dear Empty TV
the entity of all Corporate Gods
We will survive without you easily — — the oldschool is going DOWN FAST
my lifes Dedication is Now to Do Nothing But SLAG something
Kurdt Kobain xxx
professional Rock musician"
Those aching to own a piece of previously-unsurfaced MTV-fueled Cobain rage are in luck. Hop on over to Julien's Auctions and make an offer. Bids start at $500. I think it's around $2,500 now.